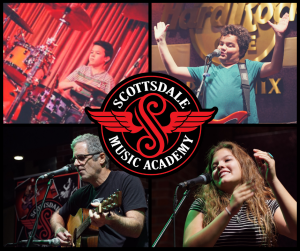 When it comes to learning music, no two music students are the same. Everyone learns in unique and different ways. What works for one student, might not work for another. Luckily, like most things in life, there are a variety of ways to learn a new instrument and become the master of music you've always dreamed of.
To successfully navigate the ups and downs that come with learning music, you'll need two essential resources: a phenomenal music instructor and the right type of music lesson — one that's specifically designed for your particular style of learning.
Don't worry; there's no need to scour the internet looking for top notch guitar or drum lessons in Scottsdale, or spend hours researching the best music lessons in North Phoenix…we've got you covered. At Scottsdale Music Academy, we not only have the most amazing music teachers, we also have just about every type of music lesson you could ever want or need.
The real question, then, becomes not where to go to learn music, but what type of music lesson is right for you. To help you answer that question, we've put together this quick guide that lists the best type of music lesson for you based on your preferred style of learning.
~The Solitary Learner
Like the name implies, solitary learners learn best by themselves where they're able to ask the questions they want and get tailored feedback and advice. For these types of learners, our private music lessons in Scottsdale are the perfect choice. With one-on-one attention, custom guitar, bass, or vocal lessons (just to name a few), and a personalized learning plan made just for you, our private music lessons are exactly what you need to learn music at your own pace and in your own unique way.
~The Social Learner
Are you a social butterfly? Do you feed off of the energy of others and love working in a group setting? If so, then SMA's group lessons are for you! Our group music lessons offer students the chance to mingle and learn with other like-minded students who are at the same skill level and learning the same instrument. With a seasoned instructor to guide you and your peers to motivate and inspire you, you'll discover that group music lessons are one of the most fun and rewarding ways to learn music.
~The Stage-Bound Learner
Perhaps you want practice perfecting your stage presence and performance skills. If so, we've got the perfect type of music lesson for you. Our band coaching goes a step beyond the normal bass, drum, or keyboard lessons offered at our Scottsdale location. With band coaching, students will get to perform at live shows and are coached on stage presence, audience engagement, and show setup. If you dream of rocking out on stage, our band coaching can teach you everything you need to make sure your next performance is out of this world!
Whether you're a beginner, a seasoned musician or simply a hobbyist, Scottsdale Music Academy has what you need and then some. With a diverse and skilled staff of music instructors and a variety of music lessons to choose from, you'll learn music on your own terms, the way you want to and in the way that best suits your learning needs. Come enjoy a free music lesson on us, and learn more about the different ways we can help you achieve your musical aspirations, no matter what they are!