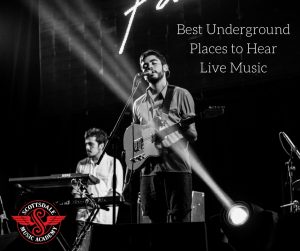 It's what every practicing musician hopes for at some point – being able to play a cool underground club to a packed room of adoring fans.
Underground clubs have an illicit charm and a subterranean vibe that makes the experience of playing music much more exciting. It's the dark spaces in which you connect the music with the environment that makes the club setting so alluring.
Thankfully, a few of those clubs still exist in the greater Phoenix metro area. These clubs host everyone from professional musicians to those still taking guitar lessons in Scottsdale to all those bands in between. Bar owners have taken some hits with the recession, as well as holding the risk of running live music clubs in this era of social media and Netflix entertainment. But here is a quick list of some of the cool underground clubs that make it worthwhile to play music in them.
If you're a Phoenix or Scottsdale rockin' roller ready to start playing these clubs, hit up the websites and get the contact info. In the meantime, get better on your game with guitar lessons at Scottsdale Music Academy. We're the best music training ground for musicians in the North Scottsdale and North Phoenix area to do this! Call us at (602) 751-3537 to learn about lessons at Scottsdale Music Academy. Your first lesson is free!