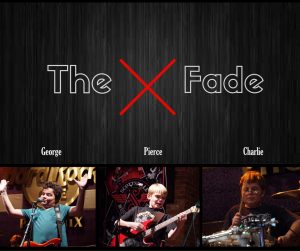 Last week, we shared a story of one of the bands in our band coaching program. Now we'd like to share another success story with you on another band that has learned about musicianship, musical teamwork, and persistence from Scottsdale Music Academy. Let's take a look at The Fade Band AZ, from Phoenix, AZ.
The Fade is a group of young musicians who have trained through the Band Coaching program at Scottsdale Music Academy. In the few years that they've been playing their classic rock covers and originals, they've taken their musicianship to new heights.
The band is made up of the following members:
Pierce Allen – guitar, vocals
George Nassar – bass, vocals
William Thomas- guitar
Charlie Nassar – drums
The Fade has played at many of the venues that welcome young musicians in Phoenix. This includes Alice Cooper's Cooperstown venue in downtown Phoenix, the Solid Rock Youth Center, and the Phoenix Hard Rock Cafe. The band has also appeared at festivals and events throughout the Valley. Watch a clip of the group as they blast through the well-known Joan Jett anthem "I Love Rock n Roll
Click here to follow The Fade on Facebook or Instagram.
If your son or daughter is interested in pursuing their musical talents in a band context, contact us at Scottsdale Music Academy in Scottsdale, AZ. We're the leading music training facility for young people in the state, and our team of instructors can help your kid learn what it takes to be in a music band.
Under close supervision, our students find out the ins and outs of learning and playing their chosen instrument; practicing at playing at singing at the same time; memorizing lyrics and melodies to songs, setting up equipment onstage and giving a great, fun-to-watch performance to top it all off! Every one of our band coaching performances at our studio is video recorded for the students, so they can see and hear their progress through the program.
Find a place for your kid in a band! At Scottsdale Music Academy, your first lesson is free and we'll show you how to get going with bandmates! Call us at (602) 751-3537 and let's make music!