One of the cool teaching areas we provide at Scottsdale Music Academy is in band coaching. All of our instructors are also active members of working music bands, so we know something about what goes into running an active, gigging band.
Taking band coaching at SMA gets you involved in the basics of stage performance, live musicianship, and audience interaction. Under the guidance of our instructors, band students learn what make a live band tick. They learn everything from how to set up their equipment onstage in an efficient manner, how to get the right sound for the stage and what type of clothing works for the 'look' of the band. Additionally, each band coaching rehearsal is recorded for audio and video, letting the students see and hear how they sound when performing live onstage.
One of the recent groups that came together in our program is Grand Entrance. This four-member group is made up of our SMA students Sophie (vocals/guitar), Jake (bass), Spencer (drums), and Ashleigh (guitar). Grand Entrance has rehearsed and learned its set of classic rock n roll covers, as well as their own originals. As a band, they've been active around the all-ages music circuit in the greater Phoenix/Scottsdale area. Here's a clip of the band playing Led Zeppelin's "Whole Lotta Love" late in 2015 for the Rock the District event.
Grand Entrance is getting busy again this fall. In October and November, the band is taking its well-honed performance to some high-visibility events:
Saturday, Oct. 15, 3pm – Arizona State Fair, Phoenix, AZ at the Wallace and Ladmo stage
Saturday, Oct. 29 – Cave Creek's Wicked Event, Cave Creek, AZ http://www.cavecreekwicked.com/
Saturday, Nov 10-12 – Mesa Music Festival, Mesa, AZ http://www.mesamusicfest.com/lineup/
Click here to follow Grand Entrance on Facebook or Instagram.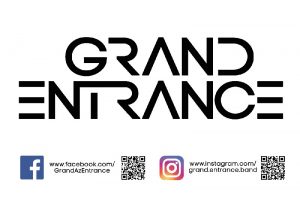 Part of the joy we at Scottsdale Music Academy have is seeing our students gel together musically. When they come together in band coaching, it's like music documentary 101. We see the students come together, we help out with basics of song selection, instrument playing, music moods and more, and then we take a back seat and watch the musical magic start.
"John Davis and the Scottsdale Music Academy team has made a huge impact on the musicians of Grand Entrance," said Jennifer Louis, a mother of one of the band members. "The skills he has taught them, like confidence, perseverance, discipline and expression through music, have been carried over to other parts of their lives. It has been a very positive experience for them."
If you've always dreamed of being in a band, but not sure where and how to start, then the Scottsdale Music Academy band coaching program is right for you. Whether you're a beginning guitarist, bassist, keyboardist, drummer or singer, that's a place for you in a band! Contact us at Scottsdale Music Academy – your first lesson is free and we'll show you how to get going with a band! Call us at (602) 751-3537 and let's make music!