1. The trunk space
Opened in April 2004, The Trunk Space is an all ages concert venue. They feature a wide range of musicians from different backgrounds and ages. Only original material is played here. If you are in a local band or musician, you may be able to book a gig there, simply by attending one of their performances. That isn't difficult to do, because they have shows almost every night! They are always looking for new and interesting talent, especially those with experience in Rock, Punk, and Experimental Rook, and Indie music. They have Comedic performances as well, making this a desired venue to visit!
The Trunk Space is located in Grace Lutheran Church, 1124 N 3rd St, Phoenix, AZ 85004.
2. Sofar Sounds: Phoenix
Sofar Sounds is definitely an interesting and exciting new approach to seeing concerts. This company is stationed all over the world, showing thousands of artists varying in popularity for all ages. They host live, intimate shows in the privacy of someone's home or local shop. Each performance is unique, and the artists playing at them are not revealed until you show up. The catch is, since it is such a private viewing, you need to enter on the Sofar Sounds' webpage and apply to get tickets to attend. You may bring a plus one, and most tickets are free (although donations are greatly appreciated). The individuality of this organization is something worth checking out.
Sofar Sounds is hosting its next Phoenix show August 5th, 2017.
3. The Marquee Theater
What started out as a venue catering to country music in the early 1990s called "The Red River Opry", The Marquee Theater is now one of the more recognizable venues in Arizona. After new ownership began in the 2000s, they host more well-known artists, but also have opportunities for local bands to play too. Bands like Phoenix, Megadeath, Young the Giant, The Black Keys, and Fallout Boy have played here. The shows are fairly intimate as well, with a maximum capacity of only 2,500. Alcohol is served there, but only with the appropriate ID. It's a great way to see some of your favorite artists, for no spot in this place is a bad one.
The Marquee theater is Located at 730 N Mill Ave, Tempe, AZ 85281
4. Crescent ballroom
This lounge is an ideal place for those who want to eat, drink, and enjoy music. Crescent Ballroom is a small hole-in-the-wall in the heart of Phoenix. Both popular and local bands play here, and its architecture has a unique background. A garage turned into an urban concert venue gives Crescent Ballroom a unique vibe. They offer free live music every night. However, the larger shows typically charge for tickets. Ages for attending depend on the show too. Either way, it's a place worth seeing a concert!
Crescent Ballroom is located at 308 N 2nd Ave, Phoenix, AZ 85003
5. Comerica Theater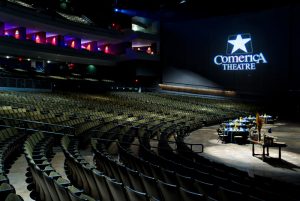 Though it's on the larger side of these venues, the Comerica Theater is an amazing place to experience a show. Originally named the Dodge theater, it opened in 2002, and took about 15 months to build. They feature musicians, comedians, dancers, theatrical actors, and other entertainers. It possesses the classic theater style mixed with a modern-day arena. Over 2 million people have attended a show at the Comerica, and the theater continues to entertain guests. It holds 5,000 people, and offers all ages shows.
Comerica Theater is located at 400 W Washington St, Phoenix, AZ 85003