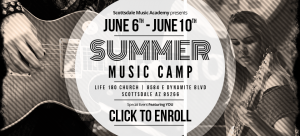 It's Summer Camp Time – Rock n Roll style!
The Rolling Stones once sang "Summer's here and the time is right for fighting in the street, boy…" in their 1960s anthem "Street Fightin' Man."
Now that might happen for GOP convention delegates in Cleveland this summer, but that's not the plan we have for your musically talented kids. No instead, we want your kids to be part of the best 1-wk. summer music camp of their lives – right here in Scottsdale, Arizona!
The Scottsdale Music Academy Summer Camp 2016 is nearly here! We're holding the music camp on June 6-10, and that's 2 months away! It's time to register your son or daughter for the Summer Music Camp.
Summer Music Camp Details
If your kids are more musically inclined than outdoors inclined, then the Summer Music Camp is for them. It's a 5-day intensive music education experience, with half-day and all-day sessions for budding young guitarists, singers, bassists, pianists and drummers.
The Summer Music Camp attendees will get a broad range of teaching from our talented instructors. Campers will get insights and direct teaching about:
Rock Band Formation
Song writing, lyrics and music
Composing and Arranging
Stage Presence
Live performances
Digital music creation
Our Scottsdale Music Academy instructors will show campers the finer points of music lessons with their chosen instrument. Your kids will learn and play guitar, bass, piano, or drums through solo and group instruction time. There will also be group music activities throughout the week. And to finish off the big music week, campers will form groups and play in a big musical finale on the last day of camp.
What are you waiting for? Get your son or daughter to Scottsdale Music Academy's Summer Music Camp on June 6-10 in Scottsdale, Arizona. Detail below:
Scottsdale Music Academy Summer Music Camp
Dates: Mon-Fri June 6-10, 2016
Location: Life 180 Church, 8584 E. Dynamite Blvd., Scottsdale, AZ 85266
Spots are limited, so register today for the Scottsdale Music Academy Summer Music Camp! Click this link for the application form. Our instructors can't wait to have a blast with you that week. Enroll today by calling us at 602-751-3527 to learn more about the Summer Music Camp!