By: Veronica Fedri
On Tuesday, September 5th, 2017, I attended an extremely unique show at The Van Buren. Seu Jorge, an actor, composer, and songwriter, played a wonderful David Bowie tribute. Jorge has recently began his second year of this tribute tour earlier this year in June. It began in 2016 as a dedication to Bowie's passing, and now he is traveling through North America once again. I am honored to have had this experience to enjoy Jorge's exceptional adaptations of these classic songs, especially in such an intimate venue. It is reassuring to know that Bowie's legacy is in good hands.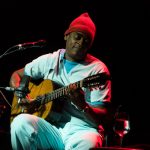 Now, almost 13 years later, Seu Jorge is back to play his adaptations for the world. This idea was inspired by the 2004 film, The Life Aquatic With Steve Zissou, directed by Wes Anderson, which Jorge acted in.  Anderson wanted Jorge to recreate Bowie's original songs,  but in Portuguese, Jorge's native language,  and with his own musical style. Throughout the film, Jorge is seen performing these songs, which is very interesting to watch. Personally, it's one of the things that made this movie particularly special. The tour's overall feeling is very Life-Aquatic-esque. Photo and video projections from the film were placed behind Jorge for a portion of the concert, the stage had a set similar to the movie, and Jorge himself, complete with the Team Zissou ensemble, just like in the movie: a red beanie, light blue jumpsuit, and white, blue, and yellow Zissou exclusive Adidas. This aesthetic flowed so beautifully with Jorge's version of Bowie's music. The show was one to remember forever.
Although all of the songs Seu Jorge played that night were all performed so wonderfully, his rendition of "Life on Mars?" was the most breathtaking. Before playing, he dedicated the song to both Bowie and Jorge's father, who had passed away just three days after Bowie did. "This is one of the be
st songs he has written," Jorge said, "I feel his presence in the room tonight." Jorge's version of "Space Oddity" was also one of the most beautiful songs of the night. He silenced the room with just his guitar and himself. Not many acoustic soloists can do that. If there is ever an opportunity for you to experience it too, I would highly suggest it.
Seu Jorge will be playing shows throughout the rest of the year. Visit seujorge.com for more information.