Are you one of those music kids who wants to get into a band? If so, then taking bass lessons in Scottsdale might be the quickest route into a band. Solid, dependable bass players are always in demand in Phoenix music groups – a quick look at the Craigslist ads for bass players tell that tale.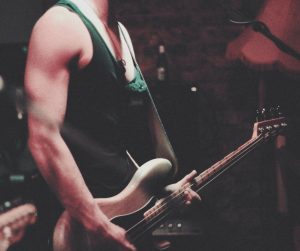 Bass players are often in demand for active, working bands because of the connection between the beat and the bass. Drummers and bass players go together like Oreos and milk, and make a great combination for a working band. A bass player provides the key ingredient with the drummer in keeping the beat, setting the rhythm for the band. Over time, bass players need to learn how to "lock in" with drummers, and those that do can help form the bedrock or foundation of the band's sound.
If you're looking to play classic rock 'n roll, taking bass lessons with a skilled teacher is the fastest way to get you into the groove. Our bass guitar teachers at Scottsdale Music Academy know their instruments well. They can show you how to learn how to play a traditional 4-string electric bass, and then move on to more adventurous 5,6 and 8 stringed basses.
Your group bass playing lesson starts much like how a band rehearsal might get going. You'll team up with other students of similar skill levels, choose songs that work for the group, and find the way to learning those songs with dedicated practice and our instructors' suggestions.
We offer students a choice between individual bass lessons and group bass lessons. The group bass lessons are huge fun for aspiring bassists. You'll learn about handling the instrument, learning notes and chords through music theory, taking group video lessons, and enjoying monthly workshops and jam sessions. If bass playing is in your future, come check out Scottsdale Music Academy to get your playing and your future band prospects aligned for music!