The Rock the District finals are THIS Saturday night March 4th in Cave Creek, AZ. This *is* the biggest music competition for young musical talent in the Valley. Scottsdale Music Academy are thrilled that two of our band coaching groups – Last Man Standing and Grand Entrance – are performing in the finals of the series. Tickets for the concert are available online and at the door.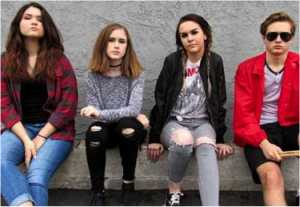 Last Man Standing
Last Man Standing plays pop punk and roll music. They formed at our Scottsdale Music Academy band coaching program. The band is comprised of members Abbey Maruyama (guitar), Sam Potter (lead vocalist), Rowan O'Riley (drums), and Katie Gibbs (bass). Members of Last Man Standing have performed at music venues like Crescent Ballroom, Desert Ridge Marketplace, the Hard Rock Café, Rock The District, and Scottsdale Center For the Arts.
Grand Entrance
Grand Entrance is comprised of band members from our SMA band coaching program. The band members are Sophie (vocals/guitar), Jake (bass), Spencer (drums), and Ashleigh (guitar). Grand Entrance plays classic rock 'n roll covers, and their own originals. Here's a clip below of the band playing Led Zeppelin's "Whole Lotta Love" for a 2015 Rock the District event.
Click here to follow Grand Entrance on Facebook or Instagram.
About Rock the District
Rock the District is an annual benefit concert to raise grant money that supports the Cave Creek, Arizona school district. One of the recent annual events raised over $20,000 from fans, sponsors and others, all that went directly back into investments into classrooms and schools.
The music competition not only raises money for a good cause, but also gives our young music bands a great opportunity to hone their skills in front of a live audience. We're thrilled to have some of our Scottsdale Music Academy bands play Rock the District. This experience is exactly what we build our bands up to do – play songs well in front of a live audience.
If you have musical skills, and want to take lessons to get better at your chosen instrument, then contact us at Scottsdale Music Academy! You can sign up with our instructors to improve your talents on guitar, piano, bass or vocal lessons. Call us in Scottsdale, AZ on 602-751-3527 for a free lesson and intro tour. We're Scottsdale's leading music instruction academy in Scottsdale, between Scottsdale Road and Hayden Road.