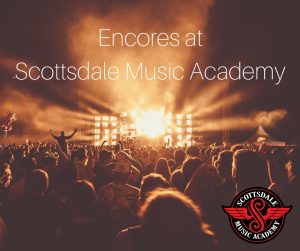 Many of you know that Scottsdale Music Academy is the leading local resource for guitar lessons in Scottsdale, AZ. In fact, our hundreds of satisfied students over the years can attest to the success of our teaching styles, our playing methods, our class sessions and individual lessons.
But what also sets our company apart from other teaching schools in our area is the dedication and service that we provide above and beyond just teaching chords, scales, and strumming. Over the years, we have developed several extra programs and activities geared toward our intermediate students who are ready to start playing out live in their musical groups.
Encore at Scottsdale Music Academy
One of these examples is our Encore music program. Once our instructors have provided students with individual lessons, group sessions, and video training, then it's time to move our music students into advanced areas, like our band coaching program or our Encore program. Our Encore program is our way of teaching students about areas that are important to musicians but aren't always taught in 'learning to play guitar' classes.
Some of the areas that students learn about in Encore include:
How to book shows, and maybe even get paid for playing
Marketing your music, both online and with fans at music shows
Creating your band's essence, through art, video or music
Engaging your fans on social media to like, follow and share
Learning how to shop effectively for musical instruments
Coaching for auditions and live performances
and much more.
We like to think of Encore as the real addition to the musical equation that lifts up certain musicians to next levels. Face it, in today's streaming musical environment, talent on a particular instrument will only get you so far. But having knowledge of how to commercialize your songs, market your music and play the social media game is what you can learn in our Encore program.
To get started with Scottsdale Music Academy, you need to sign up for one of our private lessons or group lessons, get to know us and let us know where you want to go with your career in music. Our entire team has been around the musical world for years and can offer advice to steer you in the right direction.
We will help you play better guitar, piano, bass or more, with some of the best music instructors in the Valley. Check us out online to learn about music lessons for beginners, intermediate students and even adults who want to get better. If you're ready to get your music career in full steam, now's the best time to get in touch with us to get you ready for a new start in a new year!