Meet Gian-Paolo DiBerardo, SMA Drum Instructor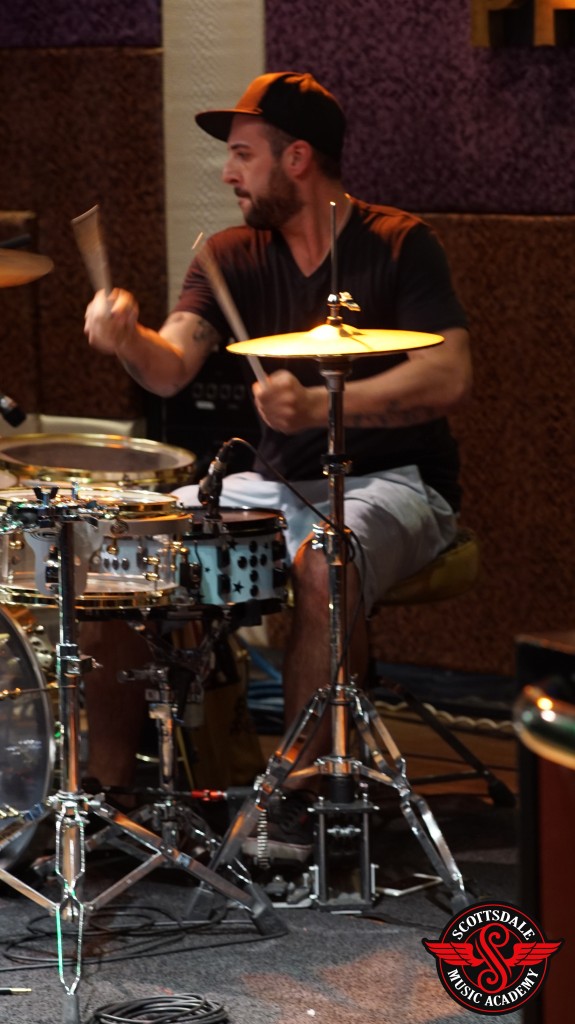 Many of the students who join Scottsdale Music Academy do so in part for the musical knowledge of our instructors. Take for instance Gian-Paolo DiBerardo, our drum instructor. Here's a guy who's lived and breathed drums for much of his life, and our talented students are now able to receive his coaching and instruction.
Background
Gian-Paolo has been playing drums since he was a boy. That's not surprising for him, as both his dad and grandfather were also professional guitarist. "I come from a long line of musicians on both sides of my parents," says Gian-Paolo. "I grew up listening to my dad record in LA, and play gigs with Grandpa when we moved to Michigan. Plus, my mom plays piano and sings, and her father was the drummer."
Gian-Paolo has also been teaching drums for almost as long as he's played drums! He remembers teaching 12 yr. olds at his parents' studio (EDB Studios, Warren, Michigan) to help them learn the basics of drumming. Later, as Gian-Paolo practiced and played gigs, he was able to step up his teaching for aspiring drummers of all ages. He moved to the Phoenix metro area when he was 21 yrs. old, and found Scottsdale Music Academy a few years later. He's been with us ever since!
Drum Instruction
Gian-Paolo believes that playing drums (or any musical instrument) really takes a lot of practice to get right. At the start of lessons with any new student, he says he drives his students to learn to keep time well. "That happens with exercises in playing with a metronome," says Gian-Paolo.
After mastering timing and control, Gian-Paolo then moves the student into drum set workouts and different beats. Later on, reading and writing charts becomes a large part of the overall educational process in teaching drums at Scottsdale Music Academy.
Drummers have to love what they do, he insists. "Practice makes perfect," says Gian Paolo. "You have to love your craft and look forward to the time you spend on practicing your drumming."
Drum Influences
Playing with his father in his early teen years at Italian weddings, events and festivals gave Gian-Paolo the starting chops to get great at drums. He eventually landed a drummer's role with the band From Here On Out, playing the Warped Tour for a few years while touring with the band.
He counts serious drumming professionals like Questlove of The Roots and Travis Barker of Blink 182 as strong modern drummer influences. But earlier on, his dad exposed him to jazz drum kings like Buddy Rich and Gene Krupa. From them, Gian-Paolo learned the essence of being in the pocket, and knowing how to manage tempos, beats and structure.
Click over to our Music Instructors page to learn more about Gian-Paolo DiBerardo. If you want to feel the rhythm of the drums, but are unsure where to start, take your first drum lesson free with Scottsdale Music Academy. Call us at 602-751-3537 or visit our website. Scottsdale Music Academy is the hottest music school in Scottsdale, AZ, the place where you take your musical talents to the next level.