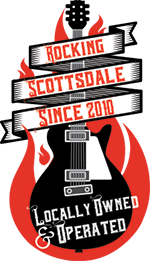 Month in and month out, our music instructors at Scottsdale Music Academy work hard to teach students how best to learn and get good on an instrument. The music learning process doesn't happen overnight. So it's in this learning time that our instructors and students find certain moments of music magic to carry each onward and forward.
And after a while, we start to see a student really rock the guitar, piano, bass or drums. That's gratifying in itself to us. But we also dig hearing back from people about what they learned and what joy it's given them through comments left on our Facebook page. We wanted to share a few of these comments with you and maybe motivate others out there to learn the gift of music this coming summer. We provide music lessons to learn techniques and playing for guitar, bass, drums, piano, vocals and band organization.
John wrote:
"My experience at SMA has been amazing so far. I'm a brand new drum student and have been going to SMA for three months now. The drum instructor Gian is one of the most helpful and patient instructors I know. Gian is chill and never makes you feel stupid if you make a mistake. His only goal is to make you better, and gives you the right instruction in order to play the music you want to play.
The owner John is also amazing and has been more accommodating than I expected from a music academy. The free first lesson I received was really welcoming, and never did I feel that I was being "sold" or pressured to go there. I couldn't be more happy with the experience so far, and plan on continuing there for the foreseeable future."
Kim wrote:
"The people are the best thing about SMA…smart, fun, down to earth musician/instructors that make you feel comfortable and good about playing and learning music there. They listened to what I wanted and needed and we went to work. I am so happy to have found SMA and strongly recommend them!"
Don wrote:
"I have been going to SMA for quite some time and John and his staff are the best I have worked with. They are very knowledgeable in every aspect of the music industry. I took lessons with one of John's long-time instructors and it's helped me tremendously in my guitar playing and knowledge. I would highly recommend SMA to anybody looking to learn an instrument and have fun at the same time."
Kurtie wrote:
"Love this place!! John is the best guy personally and professionally to work with. In under two years he took me from not playing guitar, to moving to L.A. in order to pursue my music career. Another 2-1/2 years later I'm still in L.A. writing and playing music. I miss working with him, and I know someday I'll be back there taking lessons alongside him. There's no other place in the world I would recommend to learn guitar/bass/drums. Thank you John!!"
Robert wrote:
"The best place to learn how to play guitar I have ever attended. The instructors are top notch and REALLY know their stuff. If I can learn from these folks, anyone can. I would recommend SMA to anyone serious about becoming a better musician."
You can see that taking music lessons at Scottsdale Music Academy can really help instill confidence, lift your energy and help find a new career path for some dedicated musicians. This is what we do and we love it!
Come join us! Our music lessons are fun, affordable and easy to schedule. Just call us at 602-751-3537 today for your FREE first lesson!