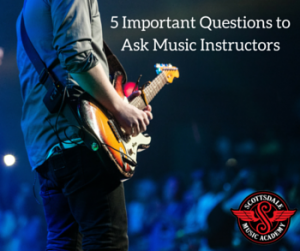 When it's time to move a child or teen into learning a musical instrument, parents are often caught off-guard, especially if they know little about music playing. Where do you start with a music lesson business? Do you ask about instruments available? Time and location of lessons? Cost? Instructor backgrounds?
In fact, those are EXACTLY the types of questions we would expect to hear before starting a child on guitar lessons in Scottsdale. It's important for parents to have a good handle on what their child will be taught, what's expected of them for outside rehearsal and how best to contribute in the home. Below follows a list of good questions to ask any potential music instructor.
About Music Lesson Methodology

How do you approach teaching music lessons?
What styles of music are normally taught?
Do you teach students the music they like to listen to?
About Instructors and Instruction Levels
Who are the guitar (or piano, voice) instructors? What are their backgrounds?
Does a student get group lessons with the instructors? Or 1-on-1 lessons?
What kind of instruction books or tools are used?
About Practice and Parent Involvement
How much practice time should my child do at home?
Does my child have to participate in any extra recitals or performance events?
Can I sit in on a lesson with my son or daughter?
About Cost
How many lessons will my child receive every month?
What is your pricing structure?
Do you have a discount program for paying 3 or 6 advance?
After we've answered a parent's questions, then we at Scottsdale Music Academy would turn and ask similar questions about the child's interest in music. We'd ask:
What type of music does your child listen to?
Does your child have prior musical experience?
Tell us about your expectations regarding music lessons.
To you what signs would define successful music lessons?
When the answers are all out on the table, that's when it's right to start music lessons for your child. Scottsdale Music Academy is the place to start. We've got a range of instructors and lessons from beginner to advanced. And your first lesson is free! Contact us at Scottsdale Music Academy at 602-751-3537 today for your FREE first lesson!