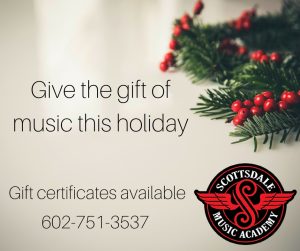 The holidays are here, and Christmas Day is a week away! Are you excited? Or are you asking in disbelief "Where has the year gone?" 🙂
We hope it's been a good year for you and yours! Now it's time to stock up on holiday gifts for friends and family. If you're still scrambling for a last-minute gift for your teen son or daughter, why not give the gift of music? Not every gift has to fit under a tree! Scottsdale Music Academy offers the gift of music to you – check out our options for music lessons at our facility in Scottsdale, Arizona.
Maybe your child, husband or wife has a love for music and has talked about learning an instrument. If you don't have the guitar, piano or bass in your home, why not send him to us? Scottsdale Music Academy can help develop your musical talents, one lesson at a time. Check out what your child will learn with individual music lessons:
Piano
Our instructors will guide students in individual keyboard lessons, helping with the proper finger and hand placement on the keys. In addition, students will learn how to play to a rhythm track; and memorize simple chords and melodic runs on the keyboard. Soon enough, the student will soon be able to pick out the melodies from their favorite piano tunes and play their favorite songs!
Guitar
Imagine being taught guitar chords and patterns to get you through your favorite, rock, country or blues songs! That's what's you get in our individual guitar lessons packages to get your playing from the bedroom to the next level! Students will learn the basics of chords, how to strum and fingerpick, to more advanced concepts of how to mesh lead guitar within chord sequences and much more!
Drums
Maybe you need to give the gift of drum lessons for your favorite noisemaker in the house! Our drum instructor will show your student how to keep a steady rhythm, how to handle the sticks, and eventually how to master the speed, agility and feel that every good band desires in a drummer.  Learn your favorite tunes?  Yes! Of course, that too!  See a sample below of a private drum lesson.
Vocals
If singing is your thing, then find the perfect holiday gift of vocal lessons for singing package at Scottsdale Music Academy. Getting the proper training for your singing voice is crucial to your success, whether or not you're involved in a fledgling garage rock band or a school choir. We believe everyone can sing. Our singing coach will teach students about vocal warm-ups, pitch, tone, technique, volume and more.
The holidays are a time for giving. Think of the people in your life. Many people already have physical needs met – a roof over their head, food on the table, plenty of clothes and maybe even their own tablet or phone. It's time to think out of the box, and give a unique gift that will show your desire for their future! Music is universal, and giving music lessons for someone special in your life can create many long-lasting memories for that person.
Click over to our music lessons page at our Scottsdale Music Academy site. We've got the musical expertise that you're searching for. We'll help you put together a great lesson package with the instructor for your student. We've got music lessons for beginners, intermediate students, and even musically-inclined grown-ups! Get in touch with us at 602-751-3537 to get musical in 2017!