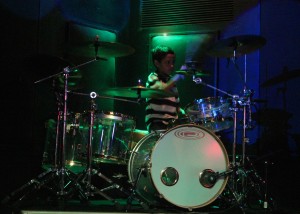 If you've finally caved and let your child learn how to play the drums (or perhaps decided to live out your own rockstar dreams), there's no denying that you'll  need to invest in a drum set at some point or another.  Even if you've signed your child up for drum lessons in Phoenix, they'll need to practice on their own to really master the craft. But before you rush to the nearest musical instrument store to pick out the first drum set you see, take the following factors into consideration: environment, commitment, and material.
While we can't guarantee you won't get a headache from all the banging and booming that comes with learning to play the drums…we can guarantee you won't be banging your head with buyer's remorse after reading this post!
3 Major Factors To Consider When Buying a Drum Set
Environment
It's no secret that drums make noise…a lot of noise, in fact. That's why it's important to consider the environment you live in before plunking down major mullah on a drum set. If you live in an apartment building with paper thin walls and cranky neighbors, you may want to forgo the conventional drum set and choose an electronic drum set instead. An electronic drum set allows for controlled, quiet practice and can even be played with headphones on for no sound at all. For musicians who are concerned about volume levels or are short on rehearsal space, an electronic drum set is the perfect choice. Be sure to evaluate your environment at home to determine whether an acoustic or electronic drum set is best for you before making such a large purchase.
Commitment
To be a skilled drummer or musician of any kind, frequent practice is required and not just during weekly drum lessons in Scottsdale. But if your child is just beginning to learn to play the drums, buying a brand new drum set right away may not be the wisest decision. Luckily, there are plenty of alternative practice tools your child can use while he or she determines whether or not to stick with drums in the long run.  For example, a practice pad is a great resource for newbie drummers to learn on while they're first starting out. A typical practice pad costs a fraction of the amount of a real drum set and will allow your child to test out their interests in the drums before making an expensive commitment. Likewise, buying a used drum set to start out with is a smart choice until you know for sure that the drums aren't just a passing phase.
Material
When you or your child has reached the point where buying a drum set is the next logical step, be sure to take the material of the drum into consideration before buying.  Unbeknownst to many drummers, the physical characteristics and material of a drum shell actually affect its sound.  That being said, here are some of the most common types of wood used to construct drums as well as their tonal characteristics.
-Luan: a very soft wood with a poorer sound quality than other woods, but it's also the least expensive choice
-Maple: a hard, dense would that results in an even vibration
-Birch: produces a smooth, warm sound that is easy to control and tune
The most important thing to remember when buying your first drum set is to do your research and take your time. Buying the right drum set is just as essential in furthering one's drumming career as is taking drum lessons. But rest easy…Scottsdale Music Academy is here to help you reach your drumming dreams and answer any questions you may have, drumming or otherwise.
Give us a call at (602) 751-3537 to find out how we can help you become the rockstar you were born to be!